Israel Adventure by Jenelle
It was kind of hard to plan our trip to Israel because it was our first time going to Israel. We went on a tour that was one week long and had another week to ourselves. We had to travel for twenty four hours to get to Israel. We got to Israel on December 17th, my birthday.
These are a few of my favorite things that I did on the Israel trip: Orthodox Services, Tzvat, Bet Shean, The Jerusalem Scale model, The Old City of Jerusalem, The Dead Sea, Going to School, and finally The Millennium,
The first and second day, we were in Tel Aviv. We had Shabbat dinner the first night. We went to Orthodox services the next morning. I couldn't really follow along with the service so we just paged through the prayer book for prayers that I knew. Also, the women were separated from the men. Later in the day, we slowly walked along the beach of the Mediterranean Sea and went to an aquarium. That evening we went to tons of stores in Old Jaffa. I bought myself a kipah from Gabriella's.
The next day we rode to the Diaspora Museum. The small models of the Synagogues really looked cute. Then we went to Caesarea. I really liked seeing all the old buildings. In Nazareth we saw Mary's church. After settling down in our Hotel in Haifa, we rode to a Druze home and had dinner there.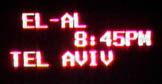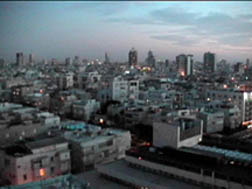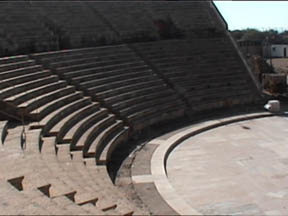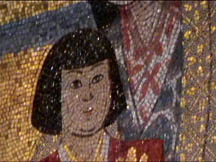 The next day we went to Tsvat. Tsvat is a magical place. In Tsvat, there was a Rabbi who explained dasaly about Kabalah which is basically mysticism. The reason I said it was a magical place is because everything good that happens, they think is a miracle. Then we went to Tzipori. We saw a mosaic with a lady on it and an old Roman toilet. There was an ancient town with lots of mikvehs. In Akko we saw tons of old fortresses and went through an escape tunnel that went to a safer place at the time of a war. We went through an open market. The buildings that the people lived in were old houses. We went to a diamond factory. They showed us a little film and also showed us the compartments of the diamond factory. That evening we stayed in Tiveria.
In the morning we went across the Sea of Galilee, and fed lots of seagulls on the way. We stopped in many interesting places. We saw an ancient flour mill and a church with a rock that is said to be where Jesus fed a huge group of people with a tiny amount of food. Then we went to Kfar Charuv, a kibbutz on top of the Golan Heights. We had lunch at the kibbutz cafeteria. There was a playground with lots of creative activities for the kids to do. They called it the junkyard. We went to Bet Shean. There was a city that collapsed in an earthquake. They restored most of it but some of the pillars are still down. We drove through Jericho on the way to Jerusalem. That evening we ate at a Chinese place in Jerusalem.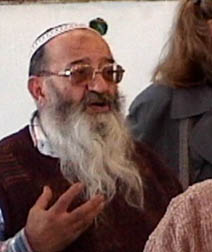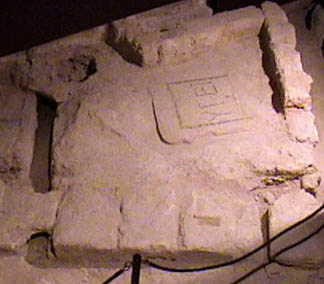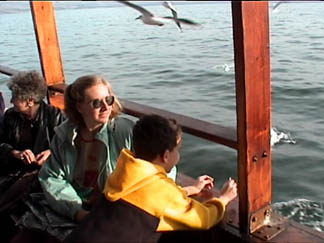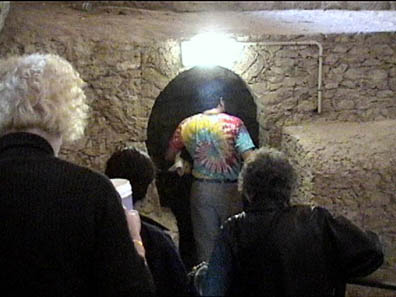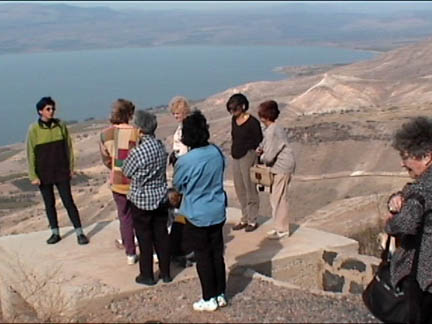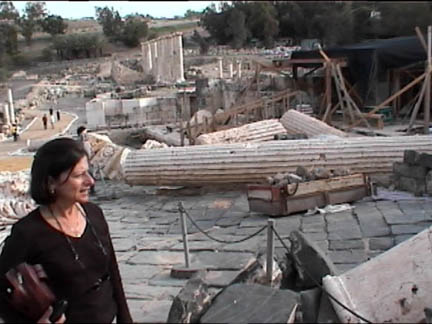 In the morning we went to a scale model of the Old City of Jerusalem the way it was 2000 years ago. We carefully planted two small trees in Israel. Then we went to Yad Vashem which means the hand of God. We saw a memorial for all of the children who died in the Holocaust. It was a dark hallway with one candle that was reflected by many mirrors so you saw zillions of candles. We also went through the holocaust museum. We went to Mount Herzl and saw the grave of Yitzak Rabin. Then we drove to Bethlehem. We stopped at Rachel's tomb and continued on. In Bethlehem there were lots of camera men looking for tourists but there were not very many tourists. We saw the Church of the Nativity. One of the people in our tour got interviewed. Then we went to the Israel museum. We saw the Dead Sea Scrolls which are scrolls found in a cave when a shepherd threw a rock in the cave looking for her sheep.
The next morning we went into the Old City on foot. We saw the western wall as we went in. Then went to the temple mount. The place where the holy temple stood. We went into a Moslem mosque and saw the dome of the rock. Then we went to the western wall. A wall of the temple mount. It is a place where Jews go to pray. I left a note in the wall and as far as I know it is still there. Then we went through the Hasmonean Tunnel and saw more of the wall. We saw a model of the temple mount. It showed how it looked at the time of the temple and how it looks now. Then we went through the tunnel that goes by the wall. They used huge stones for the temple mount. I really liked the tunnel. We walked through the Moslem Quarter and went to the Church of the Holy Sepulchre which is where Jesus was crucified. Then we did some shopping and went to King David's Tomb.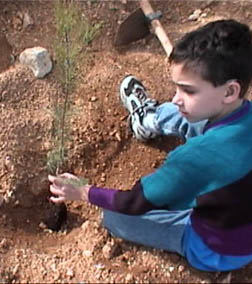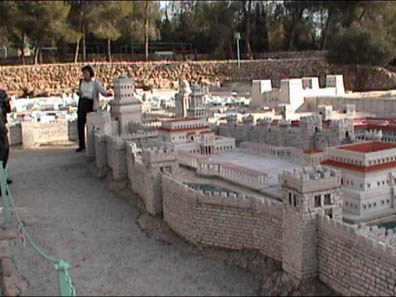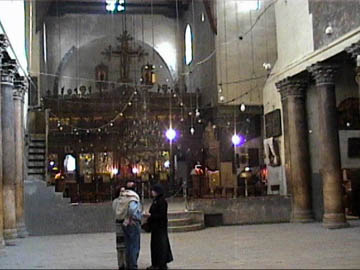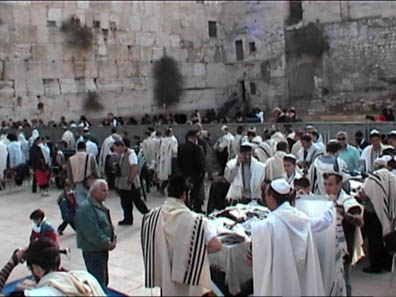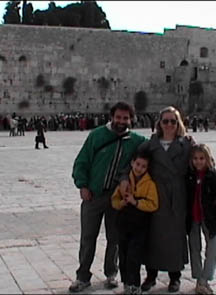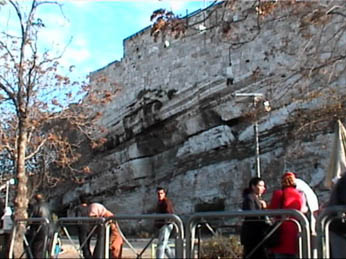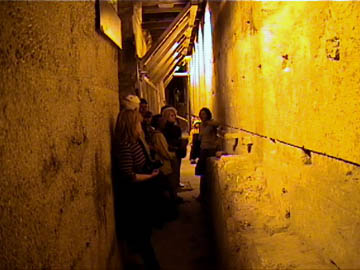 The next day we drove over to Masada and took a cable car up. Masada was a sheltered area that Jews hung out in when the Romans were attacking them. We went to Herod's palace on top of Masada. It was really cool and old. Then we went to the spot where the caves that contained the dead sea scrolls were. They looked like holes in a rock. Then we went to the Dead Sea. It was kind of cool how I would float in the water. I was able to sit on the water and just float there. The water in the Dead Sea is incredibly salty, plus it's the lowest point on earth. On the way back we stopped at the western wall to see the Jews dancing because Shabbat was starting. It took a while for them to start dancing. We almost left just before they started. It was a little chilly. That evening we went to one of the hotels and had a beautiful Shabbat dinner.
The next day it was Shabbat. The tour was over, so we picked up our own car. Because it was Shabbat there were no cars on the road, or hardly any. We drove out to the Eisners, an Israeli family that were in America for a year so we already knew them. We watched a movie that we gave them called, "The Iron Giant." It was an American movie that was made for American TV. But they have a multi system television so they could watch it. We played a game called Falling which is a fast game.
The next day we were back in Jerusalem and all we did was do our laundry and head back to Zichron Yaakov. I think that there is a rule for the tours that it has to be possible to follow all of the rules of being a Jew, because they had a Shabbat elevator in each hotel which is an elevator that stops on every floor and because all of the food was Kosher. After the tour was over, we stayed in Zichron Yaakov which is the town by Haifa. The hotel we stayed in was built on a cliff so the top floor was the lobby.
On December 27th we went to the IBM plant in Haifa. A friend of ours showed us around. We also shopped in the mall and bought a lot of stuff. Next we saw the Bahai Temple. Dad and Dustan tried to get in and failed. I was smart enough not to go across the street and follow them. On the way home we collected sand from a Beach in Haifa for a sand collection at our school. We also collected sand in Tel Aviv and at the Dead Sea.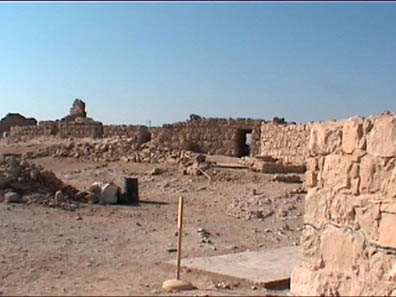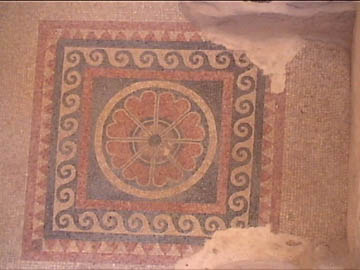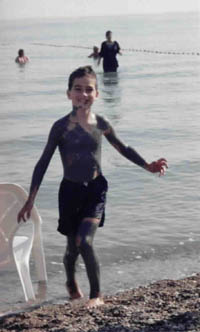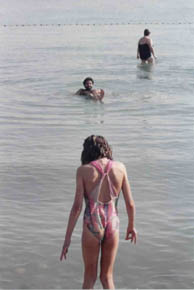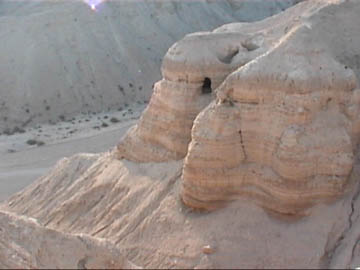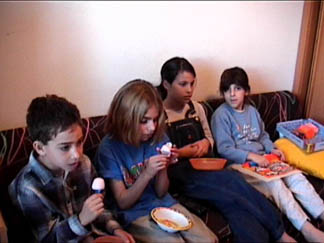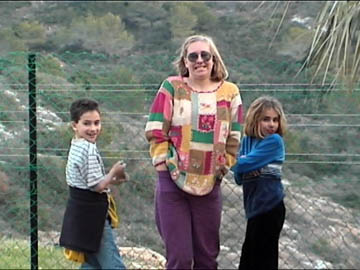 The next day we drove to lots of places in Northern Israel. The first place we went was Minera, a kibbutz that looked over a city called Karit Shmonah. Then we went on a hike that was very muddy. When we were back we ate in a cafeteria. Then we drove along the boarder of Lebanon which is next to Israel. Then we went to Metullah and looked over the houses. We moved on to Tel Dan where we went on a beautiful hike.
The next day, we went to the tour guides home. She lives in Raanana. She fed us Schnitzel which is a common food that all Israeli children like. We went to a totally cool playground and saw a yael. A yael is an animal like a goat and my Hebrew name is also Yael. Then we drove into Tel Aviv and stopped at the beach. We took a walk along the Mediterranean Sea. We walked into Jaffa.
The next day we went to Israeli school with the Eisner's children. School was only 6 hours, and there was no school lunch. Instead there was a snack that we brought from home. The school is in Hebrew and they do PE just like we do. The day I was there they were working with basketballs and learning how to throw and catch them. They did math in the afternoon. In Israel the kids were learning English in their classes. After school we ate in Zichron Yaakov. That night we drove back to Jerusalem to visit the Bleiers. The Bleiers are religious family. We had pizza with the Bleiers. And the six kids only spoke English at home. After we ate, my Mom and Dad went out while I slept on the couch. We got back to Zichron Yaakov after midnight and crashed.
The next day we went on a hike in a park in Zichron. It started out as normal trail then suddenly we were going down a cliff, following little blue arrows. Mom was complaining that we would never get up. When we got to the bottom two trails combined, the red and the blue which was the one we were on. Then we followed the trail back to the car. That afternoon we went shopping in Zichron Yaacov and then went to services at a Reform Synagogue in Haifa. The speech was in Hebrew and it was about the millennium. There was no oneg after the service. That night at eight we went to a palm reading lecture and the man said I was good in mathematics in Hebrew. Later we crept down to the showroom and watched more entertaining programs. Finally I went down to my room and watched the millennium turn over on the TV and then we went back up to dance.
January first of the year 2000: I woke up and watched some TV. They were showing the millennium turning over in the US and the sun rising in China at the same time. Later that day we went into Haifa to visit Amir and Yael who we knew because they were in the USA for a year. They live in an apartment like most Israelis. They cooked us dinner and made home made Schnitzel. We were able to hook up our camera to their TV and watch what we were filming on TV. We performed a funny experiment. We filmed the TV that was recording what we filmed and it was really cool. They have a toddler named Yuval. I really liked him. Then we went to a Druze Village to shop. The next day we would leave to go back to America.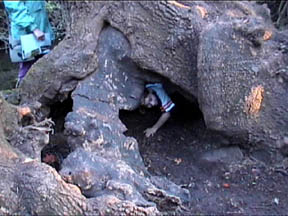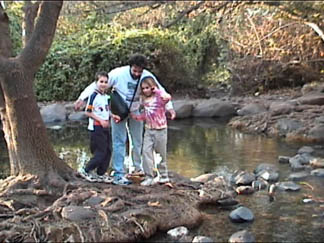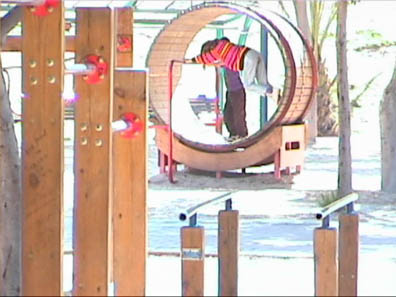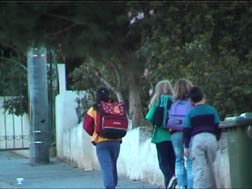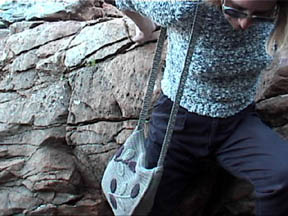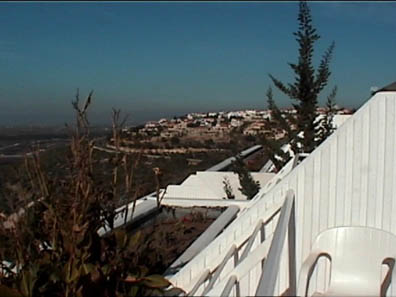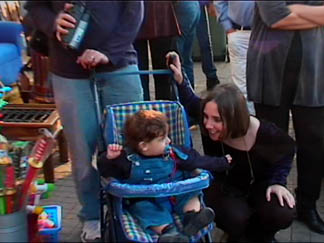 We got back home at about twelve midnight central time. I probably only got a half an hour of sleep that night but I couldn't sleep when we got home. It was eight o-clock in the morning in Israel. That night I went to sleep at four and my Mom woke me up for dinner but I wasn't hungry so I went back to sleep. It was a little hard getting back on central time but I did it and the trip is over now and I am glad it is too.
The End
Don't forget to visit my Israel picture pages.
December17-19, December 20 and 21, December 22 and 23, December 24-27, December 28 - Jan 1, and Souvenirs
(click on my signature)